Seriously addictive chilli condiments made in Amsterdam
100% natural, gluten-free and vegan
Do you love adding some kick to your food? Then you have to try Chilli Chan's Crispy Garlic Chilli Oil and Chilli Vinegar Dressing!
Mama Chan's recipe with a modern and healthier twist. Add it to dumplings, stir-fries, rice, noodles, bread, eggs, pizza, pasta, or even ice cream!
SHOP SAUCES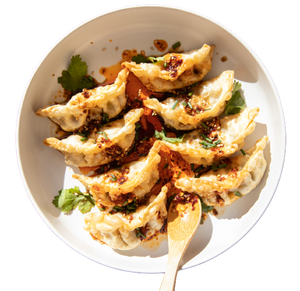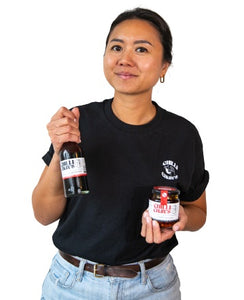 Who's behind Chilli Chan's?
Eyan, born in Hong Kong and raised in Sydney, grew up with the delicious aromas of homemade chilli and XO sauces in her family kitchen. When she moved to Europe, she couldn't find chilli oils that matched her Taiwanese mother's recipe. During the 2021 lockdown, she decided to create her own, modern version.
Chilli Chan's mission is to bring delicious tastes of Chinese cuisine to your home using natural, preservative-free ingredients. Our vision is to make flavourful Chinese food accessible to all, encouraging everyone to "Live life on the spicy side".
Join us in savouring the vibrant world of Chinese flavours!
LEARN MORE